January 12, 2004

Practice at South Mountain Arena - January 12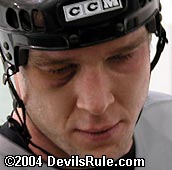 I took a trip over to South Mountain Arena in West Orange to see the Devils practice on Monday, January 12, 2004. See this link for more information about Devils practices.

Here are a few of my pictures from the practice.

There were a few players missing from practice -- the captain, Scott Stevens (presumably still out with the flu), Alternate Captain Patrik Elias, and Jay Pandolfo were all MIA. Jamie Langenbrunner (still recovering from knee surgery) did not appear to be present either.

Rob Skrlac was sporting a well-earned shiner from his fight with Nathan Perrott of the Toronto Maple Leafs on Saturday, January 10, 2004.

Goaltenders Martin Brodeur, Corey Schwab, and Ari Ahonen were all at the practice. Although Schwab looked healthy and did not leave practice early, the fact that Ahonen had not been sent back to Albany may mean that he's not yet 100%.




May 2015
Sun
Mon
Tue
Wed
Thu
Fri
Sat
17



18



19



20



21



22



23



24



25



26



27



28



29



30



Recent Forum Topics
The 2015 Playoff Thread!
Devils coaching search
Devils coaching search
Devils coaching search
The 2015 Playoff Thread!
Devils coaching search
Recent News & Notes
Devils In The News 9/19/2013
Apr-03 Articles
Mar-31 - Apr 02 Articles