January 14, 2004

Practice at South Mountain Arena - January 14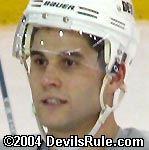 I took a trip over to South Mountain Arena in West Orange to see the Devils practice on Wednesday, January 14, 2004. See this link for more information about Devils practices.

Here are a few of my pictures from the practice.

Christian Berglund skated alone prior to the main practice and left once the rest of the team started to skate. Scott Stevens remained absent (with the flu), and Jamie Langenbrunner was not present on the ice.

I did witness Turner Stevenson driving away as I arrived at the arena -- I suspect he was given the day off.




February 2018
Sun
Mon
Tue
Wed
Thu
Fri
Sat
11



12



13



14



15



16



17



18



19



20



21



22



23



24



Recent Forum Topics
DSP targeted by racism
DSP targeted by racism
OGT: Devils @ Hurricanes 5pm 2/18
OGT: Devils @ Lightning 7pm 2/17
OGT: Devils @ Hurricanes 5pm 2/18
OGT: Devils @ Hurricanes 5pm 2/18
Recent News & Notes
Devils In The News 9/19/2013
Apr-03 Articles
Mar-31 - Apr 02 Articles